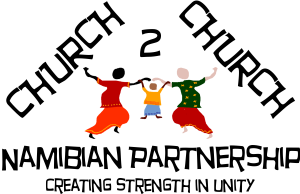 2014 - May
Today, 30 May 2014, is a sad and glorious day!
Tish has left this world and joined our Lord in glory!! The good and faithful servant is Home!
To all Tish's Gospel Partners and Supporters.
This is Tish's last letter written about 2 weeks ago.
"Thank you for all your prayers, they have certainly carried me through the last few months.
2014 - January
Dear friends,
I pray you all had a blessed Christmas and that the new year has started well.
2013 ended well for the San Bushmen when the cell group took their provisions through at the end of November. Everyone especially the children were thoroughly spoilt. They all received Christmas gift packs containing clothes, toiletries, sweets and various other things like torches. The girls received beautiful dolls and the boys cars and tool sets. Both the boys and girls also received soccer balls from Build It in Ondangwa.
2013 - November
Dear friends,
The end of another year is fast approaching.
Once again this is a lengthy newsletter but as always the Lord is merciful and it has been exciting to see him at work in people's lives.
The ministry to the San Bushmen has been a major highlight this year. It is such a pleasure spending time with them, the change in all the people is very evident. Their faces are now open and expressive when they greet us. The children are clean, their clothes are clean and they are much healthier.
2013 - September
Dear friends,
Greetings from a very dry and dusty Ovamboland. We certainly could benefit from some of the heavy rains the Cape has been experiencing.
July & August have been quite busy. It was great having the CfN team here and everyone worked really hard. The ladies team worked at all five congregations and taught on marriage. Jan Vat taught at St Luke's, St Paul's and Christ Church. Praise the Lord, there were men attending at St Luke's. The youth and children's team worked at the three
2013 - June
Hi everyone,
Much has happened since my last newsletter so this one is a bit lengthy.
A highlight in April was a welcome visit from a fellow student from GWC, Judith Dowson from Australia. She was only here for a few days but was able to attend two bible studies and meet some of the ladies. We also enjoyed a day in Etosha.
2013 - April
Dear friends
I pray that you all like us have had a blessed Easter. These last two months have been busy with many highlights.
We had a good Woman's World Day of prayer and Asnath, Christophine and Emilia all shared in running it. 15 ladies from 3 congregations attended, which included a number of youth.
2012 - October
Dear friends,
The Lord is good! We have just had a blessed visit from Rev Alan Noble, his daughter, Charissa, Doniwen also from Holy Trinity, Ross and Muriel Bartholomew from St Matthews and my dear friend, sister and partner in Christ, Marianne de Klerk. It was truly a blessing to spend time with everyone and especially with Marianne chatting and sharing again like old times.
2012 - July
Greetings from a not so cold Ondangwa A lot has happened since my last newsletter.
Beginning of May there was great excitement when Bishop Inglesby, Jenny, his wife and Rev Alan Noble came to visit. On the Saturday everyone was treated to a traditional Ovambo meal. The CEN ladies really excelled and we were able to feed around 100 people.
2012 - April
Dear friends,
These last two months have been rather busy with some new experiences and exciting encounters.
I was fortunate to meet with Victoria, a sister in Christ, who ministers in the prison at Ruacana, 180 km north west of Ondangwa. We spent a lovely afternoon together during which she shared about her work and her church's vision for the future. Through the Lord's provision she left with bibles, a children's bible, some bible study material and some sermons on cd.