May 2011
MY MISSIONS TRIP TO NAMIBIA
1 BACKGROUND
Bishop Bradley asked me to first go up to ONDANGWA in 1980 so for many years I have known Rev. Denys Nande a very dear man. I received this letter from him, which will give you the background to my visit.
Dear Bishop, I hope you are well. I am well but the heavy rains and the flood waters from Angola is cause very much disturbance and a feeling of insecure to the people especially around the towns and also in the rural areas. People are moving to the higher grounds and the government and the municipalities are accommodating them in tents. We are still expecting your visit in May. When you will be arriving in Ondangwa? I talked to George and Timothy regarding the ordination. It sounds as they are not yet ready for it yet. With regard to myself, I think I would serve in this same capacity because my health is gradually giving in. The water situation is hindering Ms Tish's work because she is no longer able to move freely. I hope that she has notified you about the situation that she happens to find herself in.

The old building at Omungwelume has totally collapsed and they have no place to hold their service. The new church building that has to be put up is still at the foundation level. The builders who were contracted are so unreliable. They only laid the foundation and disappeared up to date. They kept promising that they were coming, but they never did. The foundation is even under water; therefore, nothing can be done at the moment until such time that it has stopped raining.

Rev. Jeremiah at Ohangwena is not easy to contact. His phone is always off and one wonders if it is still functioning. It is probable that the church service there has also been effected because he has to cross through large stretches of water between his dwelling place and the church.

At Indangungu, Rev. Albino has also to go through water to reach the church, but services are held regularly by Modestus, the lay leader. He is easy to contact over the phone.

At Onamambili, the water is also high but the lay leaders there are quite active and Rev. Ben Paulus visit the place regularly. They are also easy to contact by phone.

In Ondangwa services are reasonably attended especially by the young people, but the elderly people find it sometimes uncomfortable to wade through the water and at the same time to get wet from the rain. This year is quite strange because in my lifetime I cannot remember any year that has had rain for three months nonstop. This year it started raining from January up to now. We hope the situation may improve towards April. We are looking forward to your arrival. Thank you

Yours sincerely
Rev. Denys K. Nande
FIRST AN UPDATE ON NAMIBIA FROM
OPERATION WORLD
Challenges for Prayer
1. Namibia is a stable country rich in natural resources, but there is significant risk of strife and collapse if able government and communal harmony do not prevail. Pray that the nation's leaders would address the issues of poverty, land ownership and AIDS with wisdom and determination.
2. German and Finnish Lutheran and then Anglican missionaries gave birth to large denominations in the 19th Century. Liberal theology and syncretistic Afro-Spiritism eroded that spiritual heritage, and now many self-styled Christians are either nominal or incorporate unbiblical practices into their faith. Reformation is greatly needed, but first there needs to be an opening of hearts to the Spirit. Pray for a biblical faith to be restored throughout Namibia's many churches.
3. New life in the churches has come recently through new mission activity by SIM/AIM, YWAM as well as Reformed, Baptist and Pentecostal groups, particularly to under-reached areas and peoples. Charismatic fellowships – both independent and within many denominations, including the mainline groups – bring new life and fervour. Several strategic groups formed to see Namibia transformed for Christ, the Evangelical Fellowship most notable 3 among these. Pray for all to hear the gospel once again and many to turn back to Christ, and pray for unity and cooperation among all groups seeking to uplift Christ in this nation.
4. Spiritual leaders. Pray for current and future pastors and leaders to be trained and formed to God's standards. Crucial to biblical formation are Namibia Evangelical Theological Seminary in Windhoek (SIM/AIM, NGK), the Namibia Ministry Training Institute (Pentecostal) and YWAM's training bases. TEE plays an important role, especially in the north, through the NETS distance education programme. Pray also that the mainline training institutes would capture a love and respect for God's Word.
5. Major social issues loom ominously over Namibia's future. Averting disaster requires appropriate government action, but more so a mobilization of the Church.
Poverty. A dangerous gap separates the rich and poor. Over 35% are unemployed. Ovamboland in the north is most acutely affected. Migration to the cities to find work creates shantytowns.
~
I am looking forward so much to visiting this country again but especially to spending some time at OLUKONDA and the Evangelical Finnish Mission station. I always bring you up to date with books I have read, so here are 7 you may find interesting. With the journal, I will do something new and draw to your attention to some books on AFRICA but which are not Christian. Enjoy this….
BOOKS READ IN PREPARATION FOR THIS TRIP
While in Lubumbashi I started an amazing book called
1. GOD'S STUMP by Nigel Measures
This was a fantastic book for me. When one seeks to deal with the question of nonracialism, multiculturalism, and other isms that accompany this, given the history of division and apartheid in South Africa and the world over, one is amazed at the resourcefulness of the church. Like it or not, life is diverse. Yet wherever people dwell the division of colour, wealth and culture keep them apart. God calls the 4 church to cross those divides and show another way. What can I do you may ask? This book shows us how, and is the story of how Nigel Measures left England and came with his wife and 2 small children to live in one of Cape Town's townships, KYALITSHA and built a church. It is an incredible story, so now listen to some amazing quotes through the book, they are very challenging.
JOHNPIPER: "as different peoples of the world unite in worship to God the beauty of this praise will echo the depth and greatness of God's beauty far more exceedingly than if the redeemed were from only a few different people groups.'
DAVID DEVENISH: "God's purpose in making so many different nations was to fill the earth with people who reflect Him in every way, bring praise to His name, love for His glory and establish His rule and kingdoms throughout the earth."
DUANE ELMER: "If embraced, diversity is a beautiful path leading us to new heights and depths in our exploration of God and one another. God, who authored human diversity, calls us to deal with cultural diversity, see it as good, and honour it as the handiwork of the wise and sovereign Creator."
NIGEL MEASURES: "There are many excuses that the world would use to avoid crossing racial and cultural boundaries, but there is no place for such excuses in the church. All Christians of all countries of all ages and all sexes are called to cross the dividing walls that separate the many fields in front of our eyes that are ripe unto harvest."
JOHN PIPER: "As long as there is time, and as long as there are nations to reach, Jesus' demand to go and make disciples is valid."
NIGEL MEASURES: "Any burden we may have for specific nations, sociological groups or peoples of this earth that does not spread and reach out to other nations as well, is no true prophetic burden from the Lord. We serve the individual 'peoples' of this world by helping them to understand God's heart for the nations around us. We serve the nations of this world by bringing them into contact and fellowship not only with God, but one another. Failure to do so is a compromise on the very heart of the gospel."
This is what we need today – a radical sense of Christian community where Jesus' message of the kingdom is more than an idea. A community open to all, where people are no longer divided into Jew and Gentile, slave and free, male and female, but where rich and poor, black and white, educated and uneducated, young and old are reconciled together in Christ working out their freedom as one new person in Christ. Listen to some incredible insights especially from John Stott:
JOHN STOTT: "there has been considerable debate in recent years whether a local church could or should ever be culturally homogenous. A consultation on this issue concluded that no church should ever acquiesce in such a condition … every homogenous unit church must take active steps to broaden its fellowship in order to demonstrate visibly the unity and the variety of Christ's Church."
JOHN PIPER: "Theology must influence all that we do. We need to be theologically convinced in the area of God's heart for diversity as we are with our theology of the Holy Spirit or the person of Christ. A strong theology of diversity, grounded in vision and rooted in faith will help us push through the hard times and lead God's people into His purposes for the Church."
So much discussion is around culture, listen to John Stott again, he is brilliant:
JOHN STOTT: 'Culture is ambiguous because man is ambiguous. Man is both noble (because made in God's image) and ignoble (because fallen and sinful). And his culture faithfully reflects these two aspects.' 'Each of us is a cultural creature. We have drunk in our cultural inheritance with our mother's milk. The way we think, we walk, talk, dress, work, play, the way we do everything is conditioned by our cultural inheritance. Culture is a man made structure…It's the glue, if you like, that keeps any society together. Nature is what God gives us; culture is what we do with it ..'
On the topic of RACIAL PREJUDICE this was a sobering thought for me:
JOHN PIPER: "the issue of racial prejudice and snubbing and suspicion and mistreatment is NOT a social issue, it is a blood-of-Jesus issue."
TATUM: "unchallenged personal, cultural and institutional racism results in loss of human potential, lowered productivity, and a rising tide of fear and violence in our society. Individually, racism stifles our own growth and development. It clouds our vision and distorts our perceptions. It alienates us not only from others but also from ourselves and our own experience."
This book I should have read years ago, it was brilliant and practical.

I am now about to board for Windhoek from where I will catch another flight up to Ondangwa arriving there at 7pm. Had an excellent flight and found a delightful taxi driver, Martin, who took me to EROS AIRPORT at the set charge of R280. Had another good flight and arrived safely in Ondangwa at 6:30pm, exactly 12 hours since leaving Pietermaritzburg. It is wonderful to be back for my 5th visit and what a wonderful surprise Denys and Chicken gave me by booking me into a very comfortable bed and breakfast.
Namibia is an amazing country, situated along the south/western coast of the African continent. With a land surface of 824,269 square kilometers, it is nearly 4 times the size of Great Britain. But despite its size, it is one of the most sparsely populated countries in Africa with an estimated population of only 2.5 million.
I am now ready for an exciting day ahead … had a great shower and breakfast .. so will be ready when they fetch me at 8. As part of the cycle of life, earth is plagued by natural disaster. Even though Namibia has mostly been spared in this respect, this primarily arid country did have a taste of climatic extremes this year with the highest figures EVER. In the north, where I am, almost 1000mm has fallen in the rainy season. Besides the accompanying thunder and magnificent shows of lightening, masses of water poured down from the heavens by the barrel load. The regions of Ondangwa, Ongwedieva, Oshakati, were badly affected with almost 60,000 people displaced, 62 lives lost with a large number of roads being badly damaged.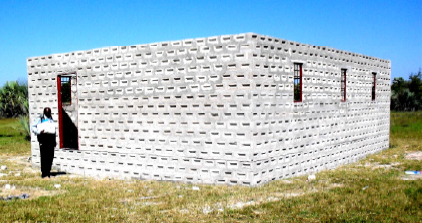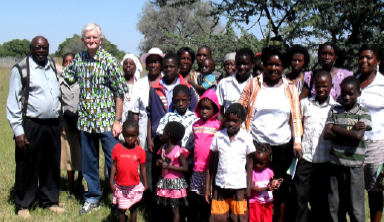 We headed off to OMUNGWELUME where we have a Church, ST. LUKES'. They are in the process of building a little church for themselves and it is now up to roof height which is a wonderful effort. The African custom is that we meet to talk, discuss problems, pray, sing, and then turn to the Bible. It is such a privilege for me going to these poor, out of the way places and then to teach them from Romans 1:1. We went in a wreck of a car returning at 1pm for a little refreshment. Along the road, you could see the effects of the flooding and the many tents which have been erected for those who lost their homes. It was also such a joy to give them all a hymn book and a copy of Morning Prayer for which they were so grateful.
On a personal level, I also gave Denys Nandi a new ESV Study Bible which was so meaningful to me because I have known and worked with him for over 30 years. I was collected at 2pm and went to Christ Church Ondangwa to meet with some of the Church leaders from the different churches. Again, after listening to them I was privileged to teach them from Romans 1:1-7 after which we found our way home. It's now 4pm in the afternoon, time for some tea and then I can read until my eyes won't stay open …wow…what a joy! These trips are an enormous blessing to me especially after some of the big decisions I have made recently.
Denys collected me at 9am and took me to Christ church in Ondangwa for our two sessions. The first one was with all those being confirmed, about 50 of them. For an hour I went over the Gospel to try and make sure they fully understood what it means to be a Christian and from there I explained how they could grow as a new believer … it was a very profitable time. The second session was to the members and I went through the 4 marks of a church from Acts 2:42. I think both sessions went down well.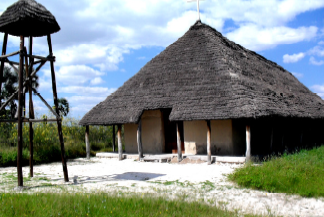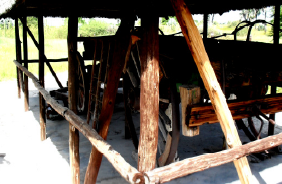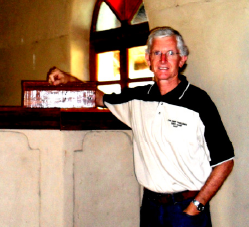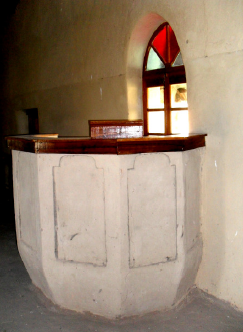 From there Chicken and George took me to OLUKONDO where I wanted to go and see the very first mission station established in Ovamboland in 1870 by the Evangelical Finnish Mission. I love it … there was no one else there so I looked over the wagon which brought them up from the Cape, the graves of REV. MARTIN RAUKENEW and his family and then over the church he built. It was locked but I managed to find a broken window and got through that window into the old building. It was amazing to see the little altar and the simple pulpit, so after some photographs I climbed through the window and looked over the station. These early missionaries were phenomenal, coming out to Africa to preach the Gospel and lay down their lives for Africa. I loved this visit immensely.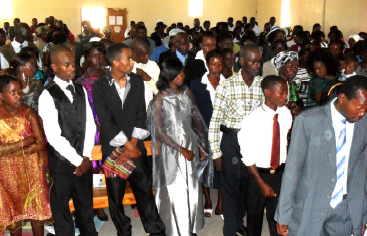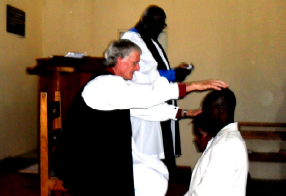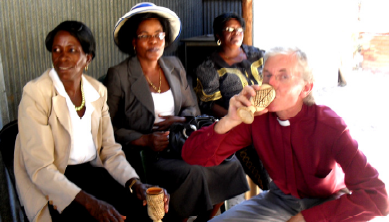 After breakfast, my friend Chicken came to fetch me at 9am and took me to Christ Church in Ondangwa. What a fantastic day I had … 45 Confirmees were confirmed in a packed Church. Denys Nandi led the service which lasted almost 3 hours including 3 beautiful choirs. I preached from 2 Peter 3:18 on how to grow as a Christian and it seemed to be well understood. Afterwards we were invited to MARY KALUNGULA'S home for the most wonderful lunch after which she sang so beautifully for us. We wound up at 4 and then headed off to George's home for a second lunch finishing there just around 7. What a fantastic day … I think the people love me visiting them and an excellent relationship has now been established for the future.
Chicken again took me to the airport, he really is a very special brother, and there was Denys Nandi coming all the way from Oshikati to say goodbye. After prayer, I enjoyed an excellent flight down to EROS Airport where Martin was waiting for me in order to transport me to the main Windhoek Airport from where I catch my second flight to Johannesburg. Another two brilliant flights brought me safely back to Pietermaritzburg. This has been one of the most enjoyable of my 20 visits into Africa, things went so well, and a lovely relationship has been established with our churches up there. I also loved visiting that mission station in OLUKONDO, I so admire these amazing people who gave up everything to come and bring the Gospel to Africa.
PERSONAL REFLECTIONS
1. NAMIBIA:
On the plane up here, the Namibian Tourist Board described Namibia as a gem worth investing in, because it has rich natural resources, breath taking landscapes, abundant wildlife, enormous investment and business pportunities, first class transport and communications infrastructure, political stability, lucrative regional and multilateral trading and market access opportunities. This was my 5th visit and it always is a great joy to return to this beautiful country. I felt that this was my best visit to them and a lovely bond between us has been established.
2. OUR CHURCH:
Since Peter Kalungula started our work with Bishop Bradley about 35 years ago, the work has struggled. We have an excellent building in Ondangwa but the other 4 buildings need work and money. Our 3 ministers are all over 80 so the situation is desperate. But in the goodness of God, Tish Hanekom is now working up here as a missionary and the yearly trip up from Cape Town is doing great work. The greatest need is for godly pastors to come in and begin to teach the Bible. Let us pray for the Lord to send up a pastor with a heart for God, the situation here is crying out for a full-time pastor/missionary. But it is more encouraging than ever before.
By: Bishop Warwick Cole-Edwardes