2013
Team Leader's Report
The team for this year consisted of a very balanced group in almost every respect. There were 8 men and 8 ladies, ranging from 16 to 73, and coming from 6 Western Cape CESA churches. Our two training days went off very well and the team was well prepared. All too quickly it was time to leave, which took place from an Engen service station in Bothasig at about 22h00 on 22 June in 3 vehicles. We met up with the fourth vehicle just past Malmesbury.
The trip to Ondangwa is a long 2200 km which we took two days to complete with a stopover at Hodygos in Okanhandja. One never really gets used to the distance and it always seems like we just cannot get there but eventually we all did and got ourselves unpacked and set up in the Nakambale Rest Camp, welcomed by Maggie as usual.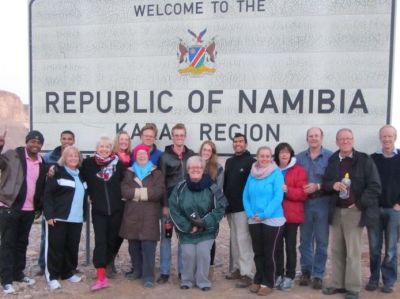 Sphelo Mlungu, Doniwen Pietersen, Karin Pretorius, Kathy Noland, Sue Border, Grace Mortemore, Nic Border, Alistair Border, Marion Edmonds-Smith, Jenna Border, Morné Valentyn, Lauren Douglass, Muriel Bartholomew, Ross Bartholomew, Jan Vat, Mike Sessions.
From the start the team worked very well together and this improved as time went by. The unifying factor is always that we are all together for a common purpose and this means that whatever we are doing it always has that purpose in mind – to evangelise and assist the churches of the Church of England in Namibia – five churches at present.
The first week is always a "getting to know the ropes" week and much is learnt by the team in terms of what the daily routine is, how to find the churches and just settling into ministry in a difference country, culture and language, as well as with people that one doesn't always know. It was good to connect up with old friends and also make some new ones.
Our hearts were saddened by the death of Denys Nandi's mother and the team attended her Memorial service on Friday 5 July. This event is very different from anything we were accustomed to and we were pleased to be able to attend. Some of the team also "popped in" on the wedding of the local king's daughter the following day which was a very grand affair with many dignitaries in attendance.
It was an absolute privilege to be part of this team and therefore part of all that took place while in Ovamboland. One of the things that really came home to most of us was the very different concept of time. There is just no absolute start or end time. Events are scheduled to start at a particular time but that should more be seen as a guideline than anything rigid. The end of the event is only when everything had been done, so things can literally carry on for many hours. When one takes into account that many people walk for hours to get to the event one starts understanding why it starts when they are there and doesn't end until all is done – then the hours of walking to get back home.
Our maintenance team accomplished a huge amount and in two weeks almost completely renovated three of the churches. This was only possible by significant donations in the region of R60 000! A very big thank you to all who made this possible. St Peter's completely painted inside and out as well as many new benches made and woodwork varnished, St John's received a new roof as well as being painted inside and out, and St Paul's received some external plastering, new front doors and also got a fresh coat of paint. All five churches also got burglar proofing and security gates fitted.
All in all I am very proud of the team and all that was done and look forward to our Lord at work in their lives as well as those we ministered to - particularly those who made professions of faith while we were ministering to them.
Ross Bartholomew
Maintenance Report
The brief given to us this year was to improve the security of the church buildings by adding burglar bars and security gates.
On the first day after arrival at Ondangwa we did a survey of all the churches and at first we wondered why they needed their security improved as there was nothing in the churches of any value. Then we realized that it was precisely because the security was a concern that nothing of value was left in the churches! This may sound a bit obvious when it is explained like that but how often do we fail to look beyond the apparent and see what the real situation is.
During the survey we could not help but see the general state of disrepair of the buildings – with large cracks in the walls and the plaster falling off, little evidence of paint inside or out, and at St Johns the roof was in great danger of falling down.
This year's team was made up of Nic Border (Architect) and Mike Sessions (Engineer). This was Nic's first visit and he had to come to terms with the different building standards in Cape Town and in Ondangwa. Rafter spans of 1m in SA become spans of 5m in Namibia and this explains why building costs are so high down south and the roofs collapse to the north!
By the end of two weeks much had been achieved – both by the maintenance team who were assisted by the youth whenever they could be spared from their own ministry – and by local men employed to assist.
St Peter's – new security gate, burglar bars, paint inside and out, 12 new pews
St Luke's – 2 new security gates, varnish doors
St Paul's – new wooden doors and security gates, fit burglar bars, repair plaster, paint inside and out
St John's – new roof (3 extra rafters, new purlins and sheeting), new security gate and burglar bars, plaster and paint
Christ Church – security gate, book cupboard with lockable doors
Mike Sessions
Childrens Team
Every year you go to Namibia you will experience it in a different way. There are a number of reasons for this, one being the team dynamic. This year we had a wonderful compliment of ladies on the children's team. It consisted of Kathy Noland, Grace Mortimore, Jenna Border and me – Lauren Douglass. We had a number of areas in which we served this year. They are as follows:
Looking after the babies during the ladies bible studies run in the mornings
Running kids programs in the afternoons at various churches
Teaching in numerous ways at a private school called Proffies
Training with Sunday school teachers
Sunday school on the Sunday's
When planning a mission and your part of it one always has a picture of what it will look like when applying the work you have prepared to do, but once you get on the mission field it always works out differently. The team really got stuck into serving and helping where ever needed. From looking after the kids during the morning ladies bible studies to teaching Sunday school. One of the high lights about the team this year is that everyone was willing to help where help was needed. The kids' team worked in the maintenance team painting and sanding and plastering. The ladies helped out with the Sunday school on Sundays. Where ever there was a gap people just got stuck in and worked.
The kids ministries at the various churches in Namibia are growing and growing. St Peter's reaching kids up to 100. These kids are there and they are willing and eager to learn about God and the gospel. The problem faced up there is that the work is plentiful but the workers are few. One of the key elements that Tish wanted to focus on was training key Sunday school teachers. This was done with two volunteers on one Saturday morning. Kathy Noland presented a brilliant and very helpful understanding to them about why taking the gospel to kids is so important. This was received very well and both volunteers found it helpful to understand the reality that kids are just as lost as adults and in need of the gospel. We brought with us from South Africa material that has been written for the African context. The mission bought 3 copies, as part of our training we taught them how to use the material and gave them some tips on how to prepare Sunday school lesson's and then passed on the material to them. The idea behind that training is that they now will pass on what they have learned to others who were not able to attend the training. Please continue to keep the children's ministry in Namibia in your prayers.
All in all the team worked well together serving the gospel and each other. Now we need to pray together for the work that will continued there.
Lauren Douglass
Youth Team
I really enjoyed this mission trip. Presented with the opportunity to joyfully serve as the leader of the Youth Ministry team, came as a delight. With the help of five awesome team members (Morné, Sphelo, Alistair and Jenna Border) this was quite exciting! And what an adventure it was! Our favourite time was to visit various churches and schools in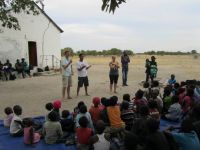 and around the Ondangwa area particularly in the vicinity of the Churches in Namibia. And sometimes this meant travelling long distances, as far as 60 km away from where we stayed. This meant we couldn't get to all the churches as we would've liked because it would've made travelling back during the night too dangerous. Nonetheless, we tried covering a wide area and where we could get too, in-order to reach youngsters with the Gospel. Our mission was get to know kids, teach them the Bible and just have fun with them, and I believe we achieved it. This included activities such as story times, Bible skits and other fun games like soccer tournaments etc. I was greatly blessed and encouraged in a special way.
To see youngsters and teenagers walking miles to where we were, to listen to God's Word, presented in a way that they can relate too, was wonderful. My biggest highlight was when we got to interact with them; they got comfortable enough to teach us a song called "My life is too complete". And this struck me, to see youngsters coming from a rural situation singing "My life is too complete" with such passion. Almost to say that even in the most basic, and struggling live, God is big enough to complete their lives that the worries of this world is for God to take care of. And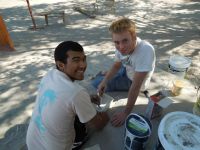 for us to be content in that faith and trust in surrendering our every area of life to Him. This was quite a stark reminder to me of how much Christians in general but we as youth in particular, get lost in our socially cluttered myspace, and we forget that life is really as simple as trusting in God to keep you and sustain you throughout our daily lives. This spoke volumes to me!
We were also involved with helping the maintenance team and with great joy we can say we were part of a wonderful and much appreciative congregation, that now meet in a beautifully painted church. I have grown and learned a lot in my experience of Namibia and its people from a foreign culture. And this sentiment was shared by the youth-team in general. I would love to go back, and I don't think I will ever forget this trip.
Doniwen Pietersen
Ladies Ministry
It was with much trepidation that I set off for Namibia as it would be the first time I was going as a team leader. The ladies of Ovamboland had requested teaching on marriage so much research was done to decide where to get my material. God in his wonderful provision showed me what to use in a course I had just done on creation and the fall. A whole section was also on marriage showing God's original plan for marriage in Genesis 2. Following that was teaching the ladies how to be women after God's own heart, as God sought Daniel, a man after his own heart, towards their husbands and in the home.
It was difficult to teach on the subject of marriage as most of the ladies are unmarried with various children from different fathers. It was even more heart sore to see young girls in their late teens and early twenties with baby's on their arms.
I was blessed to have two wonderful ladies, Sue Border and Karen Pretorious as part of the ladies team. It was the first time for both of them in Namibia. They were a great support and "gelled" with the ladies at each of the sessions at the five churches where we ministered.
God, in his graciousness, touched the heart of 11 ladies as we taught. Please pray for their growth in their faith. Tish has been given the names of all the ladies so will follow up with them.
I look forward to visiting all the ladies in 2014 and pray that the Lord will allow me to return.
| | |
| --- | --- |
| | |
| Victoria of St Lukes & Amalia our faithful translator | The ladies of St John's |
| | |
| Ladies of Christ Church Ondangwa | Not enough space to watch Jesus film at St Peter's |
| | |
Marion Edmonds-Smith
Men's Ministry plus...
My family and I were in Namibia during March 2013 to investigate whether we can be useful to the Lord's work in Namibia on a permanent basis. In this regard we taught the Bible at the five churches of REACH Namibia, which served to confirm that this denomination has a serious leadership crisis. Two of the churches are pastored by women and the other churches by men beyond retirement age without obvious successors. The churches are mostly attended by women and, on the face of it (as far as a person can judge this), few of the men that do attend are born-again Christians.
Not speaking the local language, it seems folly to take on the pastoral role for one or more of these churches. At this point in time, only two men from this denomination are suitable for training, which is not a sufficient number for a full-time teaching role. As it so happens, there is a Pentecostal theological training college in Ondangwa which currently has 22 students mostly from Namibia. It is a possibility that this college may become a feeding place for REACH Namibia. I was able to establish a relationship with the leaders of this college and was even allowed to teach. Here I was informed that there was a leadership problem in many of the churches in the region, with many people being pastors of churches without any formal training.
Hence, my purpose for going on the mission was, primarily, to meet with pastors from the area across denominations to establish whether there is a general need for pastoral and lay-leadership training. This would fit my profile as I have taught in the Bible Institute's Church Leadership Program (CLP) for many years.
From a personal perspective, the mission was successful beyond expectation as it created the opportunity for Kathy Noland and I to introduce CLP to a regional pastor's fraternal. This meeting was attended by 34 church leaders from the four regions of Northern Namibia. The pastors showed great interest in the program and one of the leaders asked me to attend a meeting in the first week of October which will be convened with the special purpose to discuss CLP further.
The mission also gave me the opportunity to teach at the college and to further cement relationships with its leaders to the extent that they would love me to come back. One young teacher at the college enquired about opportunities in South Africa for higher theological education and it is a distinct possibility that I may be able to arrange a bursary for him to study at GWC next year.
Also, on my first visit, I was repeatedly informed about the frequency of abandoned babies being found dead in the bush. I was able to follow this up during the mission and discovered that there is only one orphanage in Ondangwa. International adoption is not permitted by law and, as I was given to understand, the concept of adoption is foreign to most Namibians. Hence, the only way to address this problem is to establish more orphanages with facilities to drop off babies without the threat of prosecution. In this regard, I was able to meet with social workers from the Department of Childwelfare who confirmed that there was a great need for this. They helpfully gave me the right person to contact so that I can begin to make moves in that direction.
Lastly, I was able to meet with three estate agents, one in Ondangwa (the only one) and two in Ongwediva. Nothing suitable came up in Ondangwa at this point, but there was one suitable property for rental in Ongwediva. In discussing this with the team, it was suggested that I should investigate the possibility to build a house on the property of Christ Church Ondangwa.
Thus far the Lord has opened all the doors for my family and I to settle in Ovamboland to train Christian leaders and to, perhaps, establish an orphanage. We are aiming to move in January and we are praying for the Lord to bring us the required finances for this venture.
Concerning the mission team, it was nothing but a delight to be with them. Male and female, young and old, all were equally enthusiastic and committed to do whatever was needed to make the mission a success. We all became friends notwithstanding some of the challenges we faced. There were no moaners and groaners among us, which made the work easy. Much was accomplished as may be read in the accounts of others. Both men and women made commitments to Christ. Follow up of the women will be done by Tish Hanekom but, sadly, there is no-one to follow up the men. Another reason why a man is desperately needed. It was comforting to hear the team members confirm that the greatest need of this region is for Christian men to be trained in ministry.
I would like to suggest that future short-term mission teams consider the opportunity to be of value to the broader Christian community in northern Namibia. Kathy Noland gave a short presentation to the pastors fraternal about the need for children's ministry which created great excitement. They all wanted to know when Kathy could come back to train their Sunday School teachers. The same would apply to other areas of ministry and I envisage organising training venues where people from different denomination would come to receive training by members of the mission teams. In this way the team would have many more people to teach and train without having to travel to remote areas.
Consideration should also be given for pastors on the team to teach theology at the Bible College in Ondangwa and mission teams could also assist the college by providing it with more teaching material.
In closing, we have made application with SIM to be accepted as missionaries. This does not obviate us having to raise our own support, but it has other benefits.
Jan Vat
Dear brothers and sisters,
Due to circumstances I was unable to be together with you for your whole stay this.
My colleagues have reported to me all that that happened during your stay. You have had a busy schedule in carrying out your activities - that is teaching and assisting the congregations with renovations, repairs and installations of the necessary things that all along had been lacking at our churches.
May I use this opportunity to express the gratitude of all our members for the good work you have done during your stay with us.
I heard that there were some unpleasant incidences where unreliable people were used to do some of the jobs. It is unfortunate that some of these things happen in life, but on the other hand these could be challenges to test our faith and to point out to us that we need to work more in making our people understand that to work for a church is not a profit making business but service to the glory of our Creator.
We pray that the Lord gives you all the strength, willingness and provision to visit us again next year.
With best wishes
Yours in Christ
Rev D.K. Nandi
For all the CEN congregations.