Projects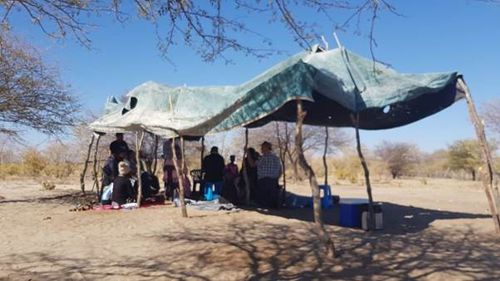 Some of our sister churches in Namibia have no structure to meet in. Some use old tarpaulins, old tents or just meet under a tree. This is far from ideal but the desire to hear God's Word and worship him burns strongly in their hearts.
Please help us raise funds to build modest structures. A simple gum pole and corrugated iron structure will make a huge difference:
In the summer the temperatures are generally over 400 C (1050 F)
During the rainy season they have no protection against the pouring rain
In the culture a church is viewed with suspicion if there is no building of any kind.
Please help us raise funds to build at least one church soonest. We do need three to be built in the long term. Our first church can be built when $1100 is raised!
Help us help ministry to continue!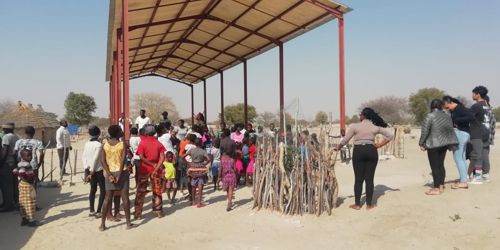 This church is the hub for several churches in the region. The idea is that this will in time, become the training centre for leadership in the northern area of Ovamboland. The pastor already has plans, some of which are being implemented, to grow the region for the Kingdom. We would like to install solar electricity so that not only can the church benefit from having electricity (there is none in any of these villages), but they can use the church for many ventures which will establish the church in the area but also draw more people to the building so that they can hear the Gospel.
Most of these villages depend on rain for their water supply but if we could sink a borehole then regular water could be available for all, all year round. If this region could be greened it would have a huge impact on the communities. Currently the are completely dependent on rain for their crops and this entire region is currently experiencing the worst drought in over 100 years!
This structure has been donated and we would like to also be able to put in a floor half way up so that more facilities are made available and can be utilized for the Kingdom. Please help us to make this possible.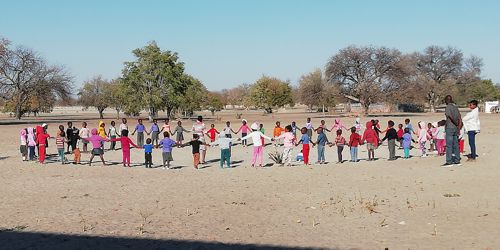 Our Pastors work in extremely poor and remote areas. Most of their congregations are subsistence farmers, dependent on rain for their harvest. There is very little extra to be able to pay their Pastors a suitable salary.
We would like to raise funds to help them on a monthly basis. Many of the pastors in the Ovamboland region survive on as little as $55 per month. This not only is very little to live on by also it means that there are no funds for anything like ministry tools. Most of them have the old Nokia or similar phones because they hold a charge for more than a week.
From the photo you can see how barren the land is.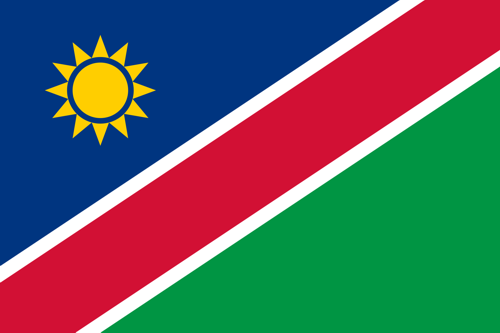 We need extra funds to cover travel across the huge distances that make up Namibia, as well as accommodation and subsistence while ministering. As we move around, we come across many needs that we would love to be able to help with. Your support can make the world of a difference to these people.