First Missionary trip – 2003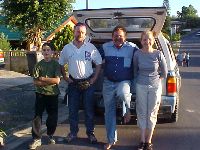 At this time the GO Outreach (a short term mission to Franschhoek and surrounds) was functioning well but there was a need for something beyond our borders. Colin Banfield and Mike Emslie thought of extending this mission to reach out to churches in Ovamboland – based on Colin's knowledge gleaned during the trip of 2000.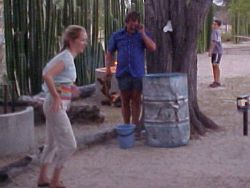 An exploration team was put together of Colin Banfield, Lisa Harvey (now Craye), Tony Pitt and Jason (Colin's son). Much of the trip was preparing the way ahead for the first main missionary trip which would take place midyear 2004. At this time Trevor Wecke and his wife were planning on going to Ovamboland as a missionary, so a meeting was held between Colin and the exploration team and the SIM leadership to discuss the needs of Ovamboland in terms of a full time missionary. The idea was that Trevor would be a curate to Bishop Kalangula under SIM. The plan for the Weckes to go to Namibia. This didn't materialise due to a number of reasons.
The exploration trip went very well, with the petrol and camping stops planned as well as a deal made with what has since become the team campsite near Ondangwa. Many contacts were made among churches and leaders in Ovamboland, with doors opened for ministry within the Anglican and Lutheran churches as well as the CESA churches.