REFORMED EVANGELICAL ANGLICAN CHURCH OF NAMIBIA
(NON PROFITABLE ASSOCIATION.
Registration Number: 21/2021/0283)
ABOUT US
REACH as a short hand for Reformed Evangelical Anglican Church which by short explanations stands for the following:
Reformed: We believe that the final authority in matters of faith, order and practice is vested in the Bible as the word of God. Doctrinal statements, synods, committee, experience, tradition or denominational organizations, have no authority over that of the Bible as contain the word of God written. The Bible is the rule of faith.
Evangelical: This means, the Evangel, or euangelion is the revelation of the Good news about Jesus Christ as revealed in the Holy Scripture (The Bible), is the only way the lost sinners are saved from God's judgement and therefore reconciled to him. By believing the undiluted Gospel (good News) of Jesus Christ, believers will enter heaven on the last day.
Anglican: By this mean, we subscribe to the 39 Articles of Faith of the Protestant Church of England. We subscribe to the Jerusalem Declaration of Global Anglicans reaffirming our commitment to the historic faith of all faithful Anglicans, and watch against any deviation from such faith. This means we are in communion with faithful Anglicans across the world and repudiate others who reject the Historic faith of the church. Notably, we as an outcome of Mission Outreach of REACH-South Africa we are in Communion with REACH-SA and by extension in communion with Global Anglicans (GAFCON), notably our main partners are Sydney Anglicans (Diocese of Sydney) in the Anglican Church of Australia.
Church: By this, we mean the gathering of people of God in local setting yet in the name of our Lord Jesus Christ, reading and hearing of God's word, and orderly administering sacraments. Across all our local churches we are held together by our loyalty to God's word and the mission of God through Jesus Christ, hence when we meet in Synods, councils and committees, common worships services, we regard ourselves as a Church, the Body of Christ in one place yet scattered for many reasons.
BASIC BELIEFS ABOUT REACH-Namibia
REACH-NAMIBIA is an Anglican denomination within reformed and evangelical tradition of the Anglican Church. REACH-Namibia is confessional church, which is fully a part of REACH Southern Africa and is member church of Global Anglicans Movement. By Evangelical and Reformed, means we hold on to the five "alone" or 'sola' statements of the Protestant Reformation. By this we mean, we believe that salvation is only by Grace alone (Sola Gratia), through Faith alone (Sola Fide) in the person and work of Christ alone (Solus Christus). We further believe Scripture alone to be the authority over the church in matters of faith and practice, (Sola Scriptura) and finally we believe that in all things Glory belongs God alone (Soli Deo Gloria). We believe the Bible to be the Word of God to us and so we devote a large part of our time together studying it and applying its teaching to our lives. Because of this we believe that we should live lives worthy of God and his word, shown through our lifestyle, our relationships with each other, other churches, and in the community. We encourage everybody to respond personally to God's offer of forgiveness and a new start, made possible by Jesus' one sacrifice on the cross, and received through faith.
MOTTO verses:
"God's Word Above All Things" Ps 138:2
"Faith comes from hearing the word of Christ" Rom 10:17
VISSION
"To be a community of Gospel believers seeking to grow deep in the knowledge of God through Jesus Christ and making him known to others by enabling of the Holy Spirit".
MISSION
To Equip Christians for every Member Ministry and Gospel mission
To nurture Christians for spiritual growth and deepening of their faith
To dedicate ourselves to the expository preaching and the maintenance of sound doctrine and theology
To enhance Christian fellowship with an aim to build healthy and united church families in and around our local churches,
To reach out to those who are thirsty for God's word by making them disciples of Jesus Christ
OUR HISTORY
By 1977, there were about 13000 Anglicans in Ovamboland part of Namibia, who for many reasons, did not belong to the Church of the Province of Southern Africa since the late 1969. They were part of the Church in Ovamboland or Ovamboland Independent Church. In 1977, at the invitation of Rev Dick Begbie of REACH-SA, who also financed the trip, The Reverend David Samuel from England visited South Africa and Namibia. The said Reverend David Samuel later became the General Secretary of Church Society. The Church Society is an interest group of Evangelical and Reformed churchmen in the Church of England and works for the restoration of the Protestant (Reformed and Evangelical) nature of the Church of England. The Reverend Samuel visited the Reverend Peter Kalangula who was at that time a Deacon. Their discussions led to an agreement that difficulties being experienced that time could be resolved if those Anglican faithfuls could be received into the Church of England in South Africa (CESA), a body which refused to be incorporated in the largely Anglo-Catholic Church of Province of South Africa, now called Anglican Church of Southern Africa (ACSA). The Reverend Peter Kalangula accepted the invitation to address the Annual General Synod of REACH-SA in 1978. Him and two others address synod pleading for assistance and episcopal oversight in order that they be accepted into broader Anglican fold.
The REACH-SA's Annual General Synod of that year 1978 passed motion and resolution:
"Expressing Sympathy and support for the Church in Ovamboland and instructed Executive Committee to give such help as it may be possible while seeking a method of establishing a constitutional link with it."
This resolution became the bulwark on which pastoral and mission trips were made by REACH-SA clergy man to Namibia, culminating in the ordination of Reverend Peter T. Kalangula by Bishop Stephen Bradley to the Priesthood (Presbyterate) in 1979. Other men were ordained over the course of three years. The church of St Timothy was established in Swakopmund in 1986. This church due to lack of pastoral leadership merged with the Baptist Church. Several of South African clergymen have been visiting REACH-Namibia, those include Bishop Bradley, Bishop Desmond Douglas, Bishop Warwick Cole Edwards, Bishop martin Morison, Bishop Frank Retief, Bishop Desmond Inglesby, Bishop Edwin Ngubane, Bishop Alan Noble and Bishop Njabulo Mazibuko who at one point went as far as Angola and did the first REACH conformation there as well as Bishop Glenn Lyons.
After years of Ministries coupled with political work in Ovamboland, Reverend Peter T. Kalangula was Consecrated Bishop of REACH-Namibia in the year 2000 and then returned to eternity in the year 2008.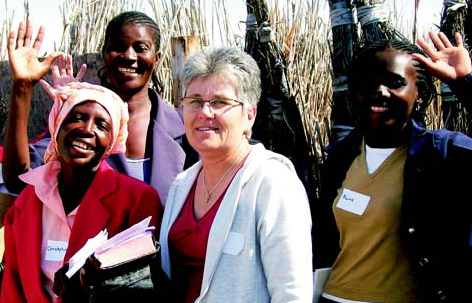 While the situation became very dire and fragile when Bishop Kalangula died; the Lord made a provision for the faithful ministry of Ms Tish Hanekom, who volunteered to be Missionary in Namibia. She started this work in May 2010 and sadly but hopefully, she returned to eternity on 30th May 2014, leaving a rich legacy and indelible mark in the lives of many women in Namibia. Among her disciples are Christophine Mande, Wilhelmina Simson and Lydia Martin who are in the order of Deaconess. In between, the Reverend David Greeff also ministered among REACH-Namibia. Rev Denys Nandi who was in the order of deacons took over as Chairman of the Council which he served as Secretary for many years. He worked with young men and women namely, Timothy and Hertha Kanime, George and idda-Magano Jeremia as well as Mary and Phillip Ndakalako among others. Mary Ndakalako is the last born of Bishop Peter Kalangula
New movement in 2017
In the events reminiscent of those of 1969, when everything started, young ministers and lay people inspired by their love for the Bible, organized themselves into the Namibia Anglican Evangelical Council, which deliberated whether to remain within the Anglican Diocese of Namibia or to move on to the REACH. After prayers, deliberation and consultation, the motion was passed at its meeting of the 30th December 2016, that Reformed and Evangelical Anglicanism needs to be strengthened as a separate entity rather than neutralize it by absorbing into the largely liberal Anglo-Catholic Diocese of Namibia.
This group led by Lukas Kaluwapa Katenda, formerly an Archdeacon, and Secretary of the Anglican diocese of Namibia, exited the Anglican Diocese one by one with Lukas Katenda resigning the orders of ACSA and transfer to REACH on the 1st January 2017. This culminated in establishing the Reformed-Evangelical Anglican local church/parish in Windhoek named Bethlehem Community Church, launched on 05th February 2017. Among those who transferred their orders or membership are: Josia Kuduva, Lukas Katamba, Gottlieb Kamati, Conradie Shilomboleni, Thaddeus Thomas, Nelson Ndakevondjo, Lasarus Hakwaake, Kwatouta Katenda, Fredrich Hilifavali, Dimbulukeni Nauyoma, Frieda Shityeni, Euzenia Nghifilai. Many others joined later as new Reformed and Evangelical Anglican Churches were established in various villages and town of Namibia.
New Bishop
After formalization, ratification of the Constitution and Canons of REACH-Namibia and eventually registration as Non Profit association, The Reverend Lukas Katenda was duly elected Bishop at a properly and duly constituted Synod of REACH-Namibia in June. The same synod petitioned the presiding Bishop pf REACH-SA to preside at the Consecration of a new bishop. The consecration service took place at Christ Church at Ondangwa on 06th October 2019, shortly before historic and global lock down caused about by outbreak of Covid 19. The grand accession was attending by many people including government dignitaries and political as well as community leaders.
REACH-NAMIBIA IS COMMITTED TO THE BIBLICAL FAITH AND ORDER